Professional Attic Insulation And Ventilation
Many Indiana homeowners struggle with uncomfortable rooms and high utility costs. Having your attic insulated properly by our experts at A&M Home services is the solution to these problems. By upgrading your home's attic insulation you can prevent the properly warmed or cooled air in your home from escaping, keeping your home more comfortable year round while reducing the amount of time your HVAC system is in use.
Insufficient or missing attic insulation is a common problem for many homeowners whose home is more than 5 years old. When your attic is under-insulated, you will experience uncomfortably hot or cold rooms as well as high utility costs. This is primarily due to the seepage of warm or cool air from your home. Our team of insulation experts can perform an energy evaluation to determine where your home is losing heated or cooled air which contributes to increased heating and cooling costs. Once this has been completed, our team will provide you with several options for insulating your attic to ensure that your home stays at a comfortable temperature. We use a variety of insulation materials for different jobs and can find the right product to suit your needs.
Premium Insulation Products
Our professional attic insulation team at A&M Home services uses top of the line products from Owens Corning for our insulation. Our team uses what in the industry is called loosefill insulation. This style of insulation is particularly effective for attics because it creates a solid barrier between your heated or cooled home and any areas in your attic where air can seep out of. If your attic is underinsulated or has older insulation, you may need to have our insulation experts come out to test and replace your insulation.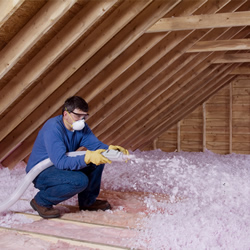 Cost Effective Energy Savings
Installing new attic insulation in your home can not only keep your home comfortable; it can also lower your energy bills. Attic insulation works by trapping air in pockets to create a barrier between the cold air in your attic and the warm air in your home. Over time your insulation will settle, causing the barrier between your home and the outside temperatures to shrink as well. By having our team install the AttiCat blown in insulation you can not only keep your home from loosing warm air, you can also save as much as 20% on your energy bills. Keeping your home comfortable and energy efficient is what our attic insulation team specializes in.
Signs Your Home May Need Better Attic Insulation
Fluctuating Temperatures: One sign of good insulation is having even temperatures that do not fluctuate too much while your HVAC unit is not running. An example of this would be that your freezing in one room but too warm in another.

High Energy Bills: If your HVAC system is constantly running to make up for the loss of temperature then you may see a spike in your energy bill. This is mostly due to the settling of insulation over time and is a sign that your attic may need to be re-insulated.

Overly Cold or Warm Rooms: During the winter or summer if you notice that a room in your home is a drastically different temperature than the other rooms of your home then this may be a sign that you're in need of new insulation. At times some of the insulation of your home may have settled or broken down causing gaps where cold or warm air can escape.

No Snow Buildup in the Winter: During the winter if there is little to no snow left on your roof after a snowfall, then your homes attic may be underinsulated. If your attic is leaking warm air then it will melt any snow that has accumulated on your roof. This makes your home's HVAC system work harder to maintain the heat you have your thermostat set to.
What Our Customers Say About Us
Roof Repair in South Bend, IN
Contacted this company for a quote for roof repair. All communication was sent via email. Jared responded quickly along with going to the home and providing me an estimate as I had requested. Overall, my… Read more "Roof Repair in South Bend, IN"
Cat D. - South Bend, IN 46614
New Roof in Niles, MI
It went great, the guys are hard workers and they arrived before 7 a.m. I believe they had the entire old roof off including the garage by 9. Not too sure what the neighbors think… Read more "New Roof in Niles, MI"
Cynthia R. - Niles, MI 49120